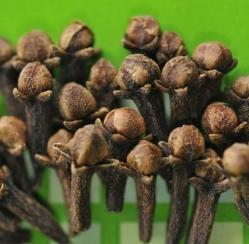 What many of you might not even realize that fragrance products become expensive for many reasons.   This is a prime example of one of these situations.  Clove production this year has a severe problem and shortages abound.    While you maybe here on our website to buy soy melts, we use many oils that have clove in them.  This shortage affects many other products as you will see in the article below.   What this means to us is that our beloved fragrances that contain clove products have gone up in price this year, by a lot.    Interestingly too is that the gestation period for cloves is 5-7 years, so a new generation of cloves isn't just around the corner.   I bet you didn't know that into that pie you took a bite of at Thanksgiving held such a precious commodity.   You just always thought it was baked with love.
As reported by the Hindu Business Line:
KOCHI, MAY 18:
A sharp fall in Indonesian cloves output due to an unknown disease has aggravated the supply situation, skyrocketing prices in Indian and international markets.
The disease has reportedly destroyed trees in the major growing areas of Manado and Java — which contribute 80 per cent of cloves' production in the major producing country.
As the gestation period for cloves is five to seven years to bear fruit, Indonesia is likely to have small crop for the next few years. As a result, the local cigar companies will have to buy cloves from other origins.
The requirement of the cigar companies is estimated at 25,000-30,000 tonnes. They were buying from wherever possible by paying through their nose, trade sources told Business Line.
"The current Indonesian prices are the highest ever in cloves' history following a nearly-total crop failure, with 90 per cent trees affected by the disease. If the situation continues, prices can even touch $20,000 a tonne given the lower crop in other origins also," said a source.
A similar situation, but with less intensity, was experienced in Indonesia in 2000, Bangalore-based importers said.
Indonesian cigar companies, they said, have started to cover from international markets where a panic situation prevailed in the past three to four days, they said. Given this situation, prices have gone up to $14,000 a tonne in Indonesia.
The crop in origins such as Madagascar, Brazil, Zanzibar and Comoros are all above $10,000 a tonne.
There is lot of buying by Middle East, European and American companies. The reported crop loss in Indonesia due to the disease would lead to frenzied buying efforts which will soar the prices to $15,000 a tonne, they claimed.
Indonesian cloves prices at $14,000 a tonne works out to Rs 640 a kg and when import duty at 45 per cent is added, the landing cost will come to Rs 900 a kg, they said.
Colombo cloves price is now at Rs 12,000-13,000, it works out to Rs 540 (at Rs 12,000 a tonne), and plus 10 per cent duty and other expenses, the price will come to Rs 600 a kg. Import duty on Colombo cloves is at 4 per cent while that at other origins is at 25-35 per cent and this has stopped fraud imports, they claimed.
Madagascar, Brazil and Comoros prices are in the range of Rs 11,000 to Rs 12,000 a tonne and landed cost would come to Rs 800 a kg. "No new imports are taking place for want of material," said a source.
Availability of indigenous produce is very much limited and the price has gone up significantly to Rs 650-Rs 700 a kg in Nagercoil in Tamil Nadu and it is likely to touch Rs 1,000 in the coming months, the sources claimed.
Growers in Nagercoil alleged that as prices started moving up, traders have formed cartel to dictate a uniform price to the growers.
Indian requirement is estimated at somewhere between 10,000 and 12,000 tonnes a year. Against this, availability from indigenous production is estimated to be below 1,000 tonnes, they said.
The Finance Ministry and Central Board of Excise and Customs is said to have issued alert notices to all ports to check clove import cargoes and adopt uniform valuation for all imports, they said.
The cloves market is appears to remain buoyant given the tight supply situation. Delhi and Mumbai importers are said to be of the opinion that the price might touch Rs 1,000 a kg this year, the trade estimates.