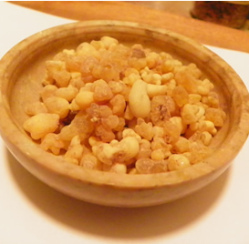 Frankincense provides one of the most evocative scents in the long history of aromatics. Its fresh, fruity, pine-lemon bouquet with delicately sweet, resinous and woody undertones, slows and deepens breathing and has been used since ancient times to awaken higher consciousness, and enhance spirituality, meditation and prayer.
The name "Frankincense" is widely known as an historic biblical ingredient, and to many as one of three gifts from the visiting Magi to the newborn Jesus and as an ingredient in the Old Testament's Exodus incense mixture. Few have experienced its aroma though or know of its rich history and how the world has treasured and used it since long before recorded time.
Frankincense is tapped from the very scraggly but hardy Boswellia tree by slashing the bark and allowing the exuded resins to bleed out and harden. These hardened resins are called tears. There are numerous species and varieties of frankincense trees, each producing a slightly different type of resin. Differences in soil and climate create even more diversity of the resin, even within the same species.
Frankincense trees are also considered unusual for their ability to grow in environments so unforgiving that they sometimes grow directly out of solid rock. The means of initial attachment to the stone is not known but is accomplished by a bulbous disk-like swelling of the trunk. This disk-like growth at the base of the tree prevents it from being torn away from the rock during the violent storms that frequent the region they grow in. This feature is slight or absent in trees grown in rocky soil or gravel. The tears from these hardy survivors are considered superior for their more fragrant aroma.
The trees start producing resin when they are about 8 to 10 years old.   Tapping is done 2 to 3 times a year with the final taps producing the best tears due to their higher aromatic terpene, sesquiterpene and diterpene content. Generally speaking, the more opaque resins are the best quality. Dhofari frankincense (from Boswellia sacra) is said to be the best in the world, although fine resin is also produced more extensively in Yemen and along the northern coast of Somalia, from which the Roman Catholic Church draws its supplies.
Recent studies have indicated that frankincense tree populations are declining due to over-exploitation. Heavily tapped trees have been found to produce seeds that germinate at only 16% while seeds of trees that had not been tapped germinate at more than 80%.
The Frankincense Trail, BBC Documentary
Oman ,Yemen and Saudi Arabia (Part 1)
Saudi Arabia (Part 2)
Egypt (Part 3)
Jordan and Palestine (Part 4)