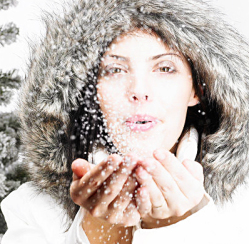 We search for the most unusual oils, the complex ones that people may not have been exposed to yet, or the ones that evoke memories.   If we cannot find the right ones we blend them ourselves.    We have found that perfection we are always looking for with our new Winter release: Winter Festival.
Here we celebrate Winter.  It is cleansing and a big change from the sweltering summer.   Some people are so surprised that we have a Winter here in Texas, but we do!  We've already had snow, even before some of the other parts of the US.  Our winters can be harsh as we live in the open plains, and the bitter cold winds whip through this area without breaks.  As this is being typed, our temperature is in the high 20's F, and the wind machine is cranked up to high.  We love the wintertime here as we can enjoy it and know that in a few hours, or days, the Texas sun will return and bring melting and warming rays.   No lingering Winter for us here.
Now we have a lovely description of what Wintertime represents to us.   For those of you that are piney scent haters, you will be pleasantly surprised with this one.
The sweet smell of Winter, one sniff and we've suddenly become 8 years old again. This scent took us playfully into a journey through the woods of winter, snowball fights…some crisp sweet scents, the twigs breaking under the weight of our boots in the snow as we ran. Mom always had something warm for us to eat or drink when we came inside.
This fragrance celebration is packed with evergreen resins swirled with an infusion of sparkling tart fruit and subtle woodsy clove. In the middle of this scent are hearty notes of pine and fir needles. An extremely smooth yet lively conifer fragrance with tart nuances of citrus and sparkling fruit, spiked with a base of musk and green moss.
You don't want to miss trying this one.   It will be available in clamshells, aroma spray, scent memory spray, incense and soy candles.  Because of the cost of the ingredients such as clove in this blend, the products made of it will cost just a bit more, but after smelling, you will know they are worth that little bit extra!