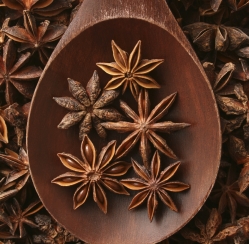 Chinese star anise is one of the most beautiful and aromatic spices in the world. Star Anise comes by it's name from perfect 8-12 pointed seed pod stars which are the deeply fragrant fruit of the native Chinese evergreen (Illicium Verum), a member of the Magnolia family.  Star anise boasts  a  much stronger, sweeter and denser licorice flavor and aroma than the more common Spanish anise seeds.
It is also known to promote vitality and vigor in the human system, reduce pain in arthritis, and is a common ingredient in the French liqueur Pernod. This fragrant, licorice-spiced plant is now playing a starring role in one of the most sought-after drugs on the planet: Tamiflu.
Because we agree that Star Anise should be celebrated, KaleidoScents brings to you three beautiful anise inspired fragrances:
ABSINTHE – The taste of Absinthe drink captured in our fragrance! Absinthe is created with: aniseed, fennel, hyssop, and lemon balm, angelica, star anise, dittany, juniper, nutmeg, and veronica in a wormwood base. Three distinct layers of fragrance bloom as the fragrance is worn or used in products: herbal, woods and anise.
ANISE STAR – Strong notes of star anise and herbs. Very true and beautiful.
BOHEMIAN – Intoxicating alluring aromatic blend of just the right combination of star anise, fennel, spicy cinnamon cassia, nutmeg, melissa, fresh green herbal notes, with base notes of hypnotic amber and woods. Very strong lingering fragrance! You won't have a care in the world with this fragrance in your home!
When thinking about home fragrance, make your home warm and inviting, Star Anise is the crown jewel of all spices and will be the fragrance showcase for your home.  What better way to fragrance, than to use some of the most exotic and gorgeous spices  in the world.   Everyone will wonder where you got the scent, guaranteed!