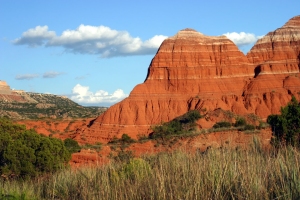 Growing up and living in Texas, we felt we wanted to represent the state we love so much.  The scents here are our interpretation of our every day life in here in our beautiful West Texas.
Texas Scent Line:
COWBOY COFFEE – Cowboys on the range need a git-me-up! This strong mud brewed right on the campfire needs careful pourin' so you don't have 'dessert in the bottom' Hand me one of them thar metal cups, I'll join ya!
BOOTS 'n SADDLE – Nothing says Texas like a cowboy dudded-up in rugged leather boots, chaps, gloves and ridin' horseback in his saddle.
PIÑON – These beautiful gnarly green pines live long lives, possibly 800 years. Our Pinon is a woodsy, resin and crushed needle scent that just is definitive of the Southwest, the scent of Santa Fe. This is the fragrance of the fresh tree, like you would smell after an afternoon thundershower in the mountains.
PIONEER BREAD – Our Texan Pioneers of the Panhandle, fixed-up rustic recipes of fresh baked cornbread straight from the Dutch Oven. This hearty corn bread was made from sweet fresh corn on the cob, butter, a couple pinches of sugar and a little dollop of sour cream! This fragrance is so strong it will "knock ya into next week!"
TEXAS PRALINES – An irresistible blend of sweet warm vanilla caramel, dark brown sugar and butter-drenched pecans.
TEXAS BARREL CACTUS – The Texan wind and dry heat beats upon bundles of waving petitgrain and blue wildflowers growing near the globe-shaped cactus plant in a world of the hot sandy Texas desert life.  This plant also produces juicy succulent fruit, another scent note in this beautiful fragrance.
WEST TEXAS THUNDERSTORM – Lightning cracks and the downpour of energized oxygen fills the night air followed by rain drops on the parched earth and vegetation. The whole Texas sky fills with purifying ozone which heralds the cleansing and refreshing relief from the relentless summer heat.